Tuesday, May 22nd, 2018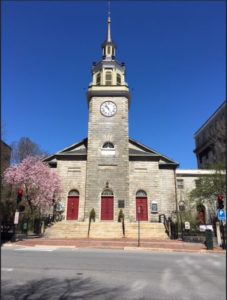 The city of Portland is filled with a treasure trove of historic and hidden places, some located far from the tourist haunts of the Old Port.
Last weekend Jeanne and I and a couple of friends decided to get a sense of what the city might be hiding from casual observers and signed up for the Maine Historical Society's "Magical Mystery Tour"…an annual self-guided tour of some of some of the places tourists and residents alike rarely get to see.  We picked up our tickets at the Historical Society office located next door to Longfellow House, where Maine's best-known poet, Henry Wadsworth Longfellow was born and grew up.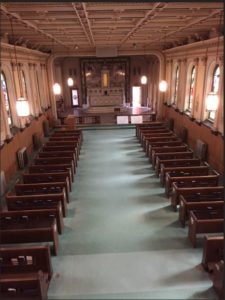 Our first stop, which I'd driven by a thousand times and never knew existed, was the beautiful St Joseph's Convent, the Sisters of Mercy Mother House on Stevens Avenue.  Built in 1909 the Convent is topped with an elegant gold cupola and inside boasts a stunning hundred-year old chapel with marble columns, a beautiful painted ceiling, stained glass windows and doors depicting biblical scenes. Walking down the exceptionally wide center aisle one can imagine processions of novitiates prostrating themselves before the altar. Upstairs the corridors are lined with narrow doors opening onto tiny individual cells where as many as 250 nuns lived. Each has a now empty brass holder for the Sister's name. But sadly, all the nuns are gone.
Today, this historic building is currently under reconstruction to make way for a mix of senior, affordable and market rate housing. New and partly finished one bedroom and studio apartments were open to be seen and even the smallest studios are about 10 times the size of the nun's cells.
In the side chapel short pews are still lined up in rows. The organ is on an upper balcony with Byzantine style arches carved wood detail. One hopes the developers will at least keep remnants of the chapel for communal use by the new residents. I can imagine circles of people coming together for meetings or performances, or tea and coffee and gossip. Eighty apartments are planned.
We next stopped briefly at "Alumni Hall" on the
University of New England Campus, a few hundred yards down Stevens Avenue from St. Joseph's. An elegant white building, with many Federal style details, Alumni Hall was built to house the Westbrook Seminary in 1834. The bell tower was originally part of Portland's nineteenth century Market Hall-which was located downtown in what is now Monument Square. When Market Hall was remodeled in 1832, the bell and its tower were moved to the campus.
For a totally different flavor we drove to the end of Commercial Street to check out the old Boston and Maine Railroad tunnel. Built in the 1870's the line carried shipments of grain, ice, lumber, meat and produce and line terminated at the foot of York Street under what is now the Casco Bay Bridge. Impressive granite stones form massive retaining walls to support the infrastructure of rail and road. Sadly, all that's left of the tunnel is a fenced-in remnant which today houses occasional homeless people on the ledges around and above the tunnel. As I looked at this dark and gloomy place I could well imagine one of McCabe and Maggie's murderers dumping a body or two at the far end.
After leaving the tunnel, we decided to make a quick stop to tour the 87foot Coast Guard Cutter Amberjack which was open for the tour. The Coasties use the Amberjack for their essential work of protecting marine resources, preventing drug smuggling and for search and rescue missions.
The young and gung-ho crew were thrilled to show us around. The engine room was small and frankly a little claustrophobic for me. In the pilot-house, the Captain showed us the most current technology and navigation computers, while charts and compasses and dividers were also laid out. All hands must still know how to navigate by the sun and stars.
Finally, we toured the galley which was about 12 feet long. Still, when the cook ran through his menus, they sounded a hell of a lot better than what I remember being fed in the army many years ago. Steak and lobster? No way back then. But that's what they serve today.
After a quick lunch we moved on to the First Parish Unitarian Universalist Church to check out the clock and bell tower. First Parish, as it is called, was built in 1825 as a place of worship for a congregation that was first established in 1674. It's the oldest church building in the city, and one of its finest examples of Federal period architecture.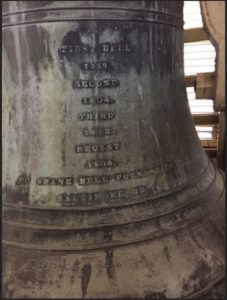 Construction of the current granite building was completed 1826 and the 1802 Simon Willard clock tower and the internal gallery clock were transferred to the building along with 1810 steeple bell. The Simon Willard clock is the last remaining and functioning tower clock in existence. Climbing endless flights of stairs to see the clock turned out to be worth it. We were all fascinated by the simple beauty of the oiled cogs and wheels, and gears of the mechanics of the 116-year-old clock. After a further climb up steep timbered steps, with no handrail we got to the bell tower. Unfortunately, shutters obstruct what must be a terrific view and also shield witnesses from what might be another terrific place to dump a body.
The Maine Historical Society will run a similar tour of unseen and unknown places in May of next year so if you're planning a trip to Portland, keep it in mind. And if you have time stop in at police headquarters at 109 Middle Street and say hi to Maggie and McCabe.
And please don't forget to look for my latest McCabe/Savage thriller, A Fatal Obsession, coming out on August 21st and available for preorder now!
Follow me on Twitter or Facebook for more details!