A Fatal Obsession
Now on sale now for just $3.99!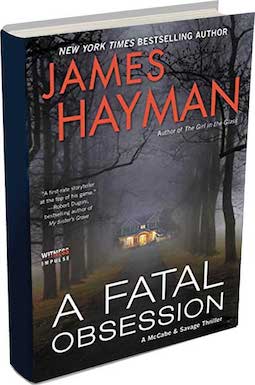 Someone's watching…
Zoe McCabe is a beautiful young actress on the verge of stardom who has been basking in the standing ovations and rave reviews she's been getting from critics and fans alike for her portrayal of Desdemona in an off-Broadway production of Othello. As she takes her final bows, Zoe has no idea that, seated in the audience, a man has been studying her night after night, performance after performance. A man whose carefully crafted plans are for the young actress to take a starring role in a far deadlier production he has created just for her.
Portland, Maine detectives Mike McCabe and Maggie Savage are settling into the new rhythm of their relationship when McCabe gets a late night call from his brother Bobby that Zoe, McCabe's favorite niece and Bobby's daughter, has suddenly disappeared. The NYPD is certain Zoe's abduction is the work of the man the tabloids have dubbed "The Star Struck Strangler," a killer who has been kidnapping, abusing and finally strangling one beautiful young performer after another. Bobby begs McCabe to return to the New York City crime beat he'd left behind so many years ago, to work his old connections, and to help find Zoe before her time runs out. The stakes for McCabe and Savage have never been higher. Or more personal. And suddenly the race is on to stop a vicious attacker, before the McCabe family is torn apart beyond repair.
"James Hayman's edgy, ingenious novels rival the best of Lisa Gardner, Jeffery Deaver, and Kathy Reichs. A Fatal Obsession is his finest to date: a ferocious live-wire thriller starring two of the most appealing cops in contemporary fiction." —A.J. Finn, #1 New York Times bestselling author of The Woman in the Window
Rave Reviews for James Hayman's McCabe and Savage thrillers.
"The Girl on the Bridge combines the pleasures of a classic police procedural with the righteous satisfaction of a revenge thriller, and a great twist. Every crime fiction fan will find something to enjoy here." (Joseph Finder, New York Times bestselling author of Paranoia and The Switch)
"A riveting police procedural that gripped me on page one and never let go. Hayman paints a frighteningly real scenario of every parent's worst nightmare. The subsequent murders are either revenge or justice — maybe both. A first-rate story-teller at the top of his game." (Robert Dugoni, bestselling author of My Sister's Grave)
"Turning someone else's terror, pain and even death into diverting entertainment is at the core of the mystery writer's craft, and here Hayman offers a stunning lesson in how to do it.   His novel begins with a gang rape at a university frat house and goes on to a suicide. Then mutilation and murder, and before he's finished, there's at least one head blown apart. Things are kept afloat by Hayman's two series detectives, Michael McCabe and Maggie Savage of the Portland, Maine, police. They're smart, they're fiercely articulate, and their dogged investigation turns the novel into a procedural of the highest order…Everything goes right here: pacing, mood and lean, elegant writing, and by the time readers learn the killer's identity and motive, they'd be happy to kill the scumbag, too."-Booklist

Rave Reviews for James Hayman's McCabe/Savage Thrillers:
"The author had me guessing to the end. His plot crafting made me think of Martin Cruz Smith and Scott Turow at their best. Hayman is also skilled at developing rich, fully textured characters, especially McCabe, who is flawed and endearing at once." –Portland Press Herald on The Girl in the Glass.
"A stunning debut that gripped me from first page to last. A thriller of a thriller." – Tess Gerritsen on The Cutting.
"Taut, deft, and with a delicate sense of place, this is supremely accomplished storytelling." – London Daily Mail on The Cutting.
"Chilling, pervasive, unrelenting fear…the suspense is pulse lifting…Hayman's portrayal of the dance between the hunter and his prey is masterful." – The Providence Journal on The Chill of Night.
"Hayman's story craft is taut, the pacing tight, the horror enacted in the dark vibrant with grisly tension. Hayman does not let up in his nearly faultless plotting or in his depiction of an incredible cast of characters." – The Portland Press Herald on Darkness First.
"Hayman's pacing is perfect. An unsettling thriller, not because Portland and the state have a history of madmen killing strangers on a rampage. What's frightening is that Hayman makes it seem possible, even probable." – The Bangor Daily News on The Cutting.
"Readers of James Hayman's second mystery novel are in for a treat. "The Chill of Night" is an engrossing, character-driven novel… As the who-dun-it plot unfolds, one comes to admire Hayman as a genius of suspenseful writing." – Maine Sunday Telegram on The Chill of Night.
"A twisting, action-filled plot. This one puts Portland, Maine firmly on the crime fiction map." – Booklist on The Chill of Night.
"A deplorable villain, tantalizing characters, and a hint of romance mix with the twists. What more could a reader ask for? One hopes that Hayman will continue this gripping series." –Library Journal Starred Review on Darkness First.