The Girl on the Bridge
On sale now for just $4.99!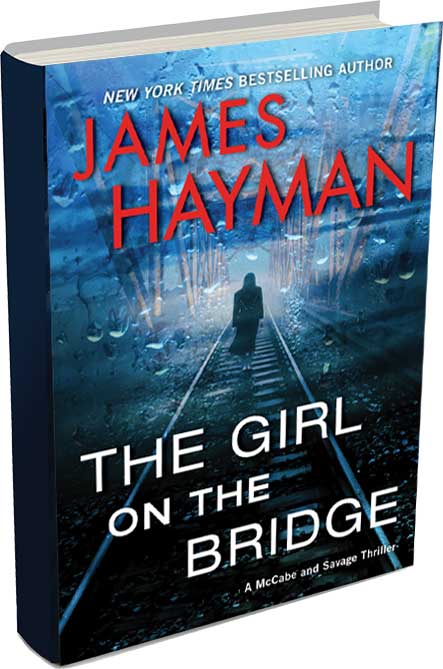 From New York Times bestselling author of the acclaimed McCabe and Savage series comes an electrifying new thriller of taut and twisted suspense.
On a freezing December night, Hannah Reindel leaps to her death from an old railway bridge into the rushing waters of the river below. Yet the real cause of death was trauma suffered twelve years earlier when Hannah was plucked from a crowd of freshman girls at a college fraternity party, drugged, and then viciously assaulted by six members of the college football team.
Those responsible have never faced or feared justice. Until now. A month after Hannah's death, Joshua Thorne—former Holden College quarterback and now a Wall Street millionaire—is found murdered, his body bound to a bed and brutally mutilated.
When a second attacker dies in mysterious circumstances, detectives Mike McCabe and Maggie Savage know they must find the killer before more of Hannah's attackers are executed. But they soon realize, these murders may not be simple acts of revenge, but something far more sinister.
Great review of The Girl on the Bridge from thriller writer Dirk Robertson in Crime Blog Criminal Element:
"Murder and intrigue are woven deftly into this tale of retribution and revenge by James Hayman. Finely drawn characters step from the pages to show that you don't have to wander far from your usual life to be out of your comfort zone or, indeed, find yourself in great danger.
A clever thriller, the book is a sober reminder that whoever you are linked to or associated with will touch your life in one way or another. You can close your eyes to who they are or what they have done, but that is no guarantee that others will do the same. As well as asking what is justice, where does it belong, and who has the right to bring it, the book also brought me to the conclusion that the question of personal responsibility for what happens around you never really goes away. Everyone may have different answers to that question, but the question is always the same. The next time you see someone on a bridge, you may want to think twice about walking on by. I know I will."
"The Girl on the Bridge combines the pleasures of a classic police procedural with the righteous satisfaction of a revenge thriller, and a great twist. Every crime fiction fan will find something to enjoy here." (Joseph Finder, New York Times bestselling author of Paranoia and The Switch)
"A riveting police procedural that gripped me on page one and never let go. Hayman paints a frighteningly real scenario of every parent's worst nightmare. The subsequent murders are either revenge or justice — maybe both. A first-rate story-teller at the top of his game." (Robert Dugoni, bestselling author of My Sister's Grave)
"Turning someone else's terror, pain and even death into diverting entertainment is at the core of the mystery writer's craft, and here Hayman offers a stunning lesson in how to do it.   His novel begins with a gang rape at a university frat house and goes on to a suicide. Then mutilation and murder, and before he's finished, there's at least one head blown apart. Things are kept afloat by Hayman's two series detectives, Michael McCabe and Maggie Savage of the Portland, Maine, police. They're smart, they're fiercely articulate, and their dogged investigation turns the novel into a procedural of the highest order…Everything goes right here: pacing, mood and lean, elegant writing, and by the time readers learn the killer's identity and motive, they'd be happy to kill the scumbag, too."-Booklist

Rave Reviews for James Hayman's McCabe/Savage Thrillers:
"The author had me guessing to the end. His plot crafting made me think of Martin Cruz Smith and Scott Turow at their best. Hayman is also skilled at developing rich, fully textured characters, especially McCabe, who is flawed and endearing at once." –Portland Press Herald on The Girl in the Glass.
"A stunning debut that gripped me from first page to last. A thriller of a thriller." – Tess Gerritsen on The Cutting.
"Taut, deft, and with a delicate sense of place, this is supremely accomplished storytelling." – London Daily Mail on The Cutting.
"Chilling, pervasive, unrelenting fear…the suspense is pulse lifting…Hayman's portrayal of the dance between the hunter and his prey is masterful." – The Providence Journal on The Chill of Night.
"Hayman's story craft is taut, the pacing tight, the horror enacted in the dark vibrant with grisly tension. Hayman does not let up in his nearly faultless plotting or in his depiction of an incredible cast of characters." – The Portland Press Herald on Darkness First.
"Hayman's pacing is perfect. An unsettling thriller, not because Portland and the state have a history of madmen killing strangers on a rampage. What's frightening is that Hayman makes it seem possible, even probable." – The Bangor Daily News on The Cutting.
"Readers of James Hayman's second mystery novel are in for a treat. "The Chill of Night" is an engrossing, character-driven novel… As the who-dun-it plot unfolds, one comes to admire Hayman as a genius of suspenseful writing." – Maine Sunday Telegram on The Chill of Night.
"A twisting, action-filled plot. This one puts Portland, Maine firmly on the crime fiction map." – Booklist on The Chill of Night.
"A deplorable villain, tantalizing characters, and a hint of romance mix with the twists. What more could a reader ask for? One hopes that Hayman will continue this gripping series." –Library Journal Starred Review on Darkness First.