Meet McCabe and Savage
Mike McCabe: Single Father. Homicide Cop. A Murderer's Worst Enemy.
Maggie Savage: Tall. Beautiful. And way too smart for any bad guy who gets in her way.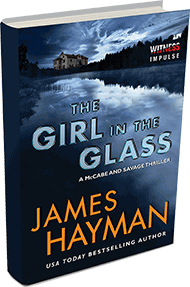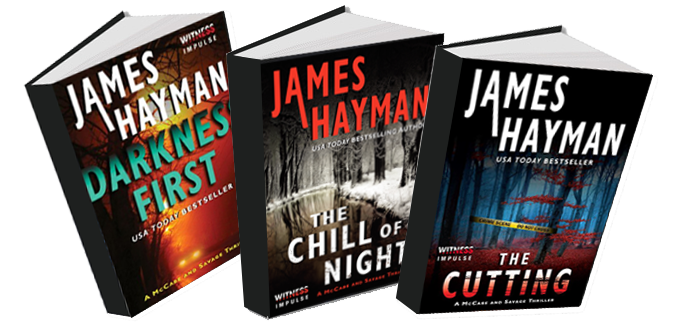 If you start reading a James Hayman thriller today, don't plan on sleeping tonight.
From a formidable new voice in crime fiction comes a series of suspense thrillers featuring Portland, Maine homicide cop Mike McCabe and his partner Maggie Savage. These are books that will keep you on the edge of your seat and reading long into the night.
Order the newest McCabe/Savage thriller, Darkness First, for Kindle, iPad, Nook, Kobo and other e-readers: Amazon B&N.com iBooks, Longfellow Books Harper Collins
Rave Reviews for James Hayman's McCabe/Savage Thrillers:
"A stunning debut that gripped me from first page to last. A thriller of a thriller." -Tess Gerritsen, New York Times Best Selling Author of Ice Cold
"This is one terrific mystery. I had already read Hayman's first book,The Cutting. Darkness First is just as good, maybe even better with a truly compelling plot, the same great detectives (Savage and McCabe), and a fascinating Maine location.Hayman writes so well that he makes a nifty mystery into a literary experience that is a pleasure to read." SusanKL Reviews
This crackling thriller from a former New York advertising man packs a terrific punch, and comes complete with pace and panache. Taut, deft, and with a delicate sense of place, this is supremely accomplished storytelling." – The Daily Mail (UK)
"Pick of The Week" –Boston Globe
"A suspenseful police procedural whirling around a character who has the brains, courage and human concern to be the reader's hero from start to finish. All in all, if that sounds like a rave review, it's because I intend this to be one. Rarely does a new novelist make a debut, in Maine or anywhere else, as polished, well-paced and plotted as this one. Even less often does a writer create characters as well-drawn and centered as Hayman gives us with his Portland Police Detective Sgt. Mike McCabe, three years into life in his new city." –The Portland Press Herald
"Hayman's pacing is perfect. An unsettling thriller, not because Portland and the state have a history of madmen killing strangers on a rampage. What's frightening is that Hayman makes it seem possible, even probable." –The Bangor Daily News
"Readers of James Hayman's second mystery novel are in for a treat. "The Chill of Night" is an engrossing, character-driven novel… As the who-dun-it plot unfolds, one comes to admire Hayman as a genius of suspenseful writing." Lloyd Ferris, Maine Sunday Telegram,
"Hayman has penned an engrossing whodunit with a tenacious investigator, who luckily also happens to have the gift of a photographic memory. Highly recommended for readers of suspenseful, captivating mysteries with a cast of colorful yet believable characters." –Library Journal Starred Review
"A twisting, action-filled plot. This one puts Portland, Maine firmly on the crime fiction map." –Booklist.
"A formidable detective tested to the limit in Hayman's atmospheric puzzler." –Publisher's Weekly
"Suspense-filled and action-packed…It's a real page-turner, unpredictable and smart, and i can't think of a better beach read, than that! Read it!" –Paging Amy

Order now: Amazon | Amazon UK Barnes & Noble Longfellow Books