The Girl in the Glass
on sale now for just $2.99!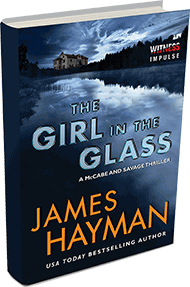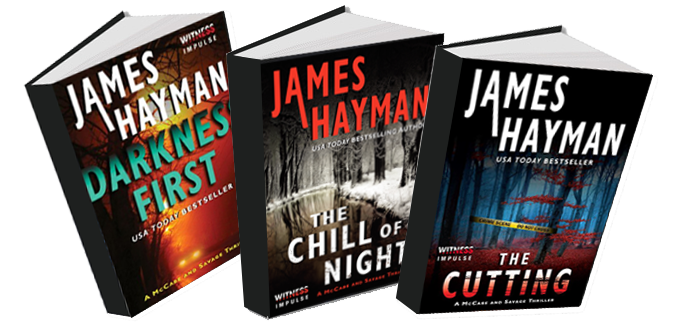 Two identical women. Two identical murders. Two lives brutally cut short. 108 years apart.
From a formidable new voice in crime fiction comes a series of suspense thrillers featuring Portland, Maine homicide detectives Mike McCabe and Maggie Savage. These are books that will keep you on the edge of your seat and reading long into the night.
Order the newest McCabe/Savage thriller, The Girl in the Glass for Kindle, Nook, iPad other e-readers: Amazon Barnes and Noble.com or the iBooks store
Rave Reviews for James Hayman's Best-Selling McCabe/Savage Thrillers:
"The author had me guessing to the end. His plot crafting made me think of Martin Cruz Smith and Scott Turow at their best. Hayman is also skilled at developing rich, fully textured characters, especially McCabe, who is flawed and endearing at once." Portland Press Herald on The Girl in the Glass.
"A stunning debut that gripped me from first page to last. A thriller of a thriller." – Tess Gerritsen on The Cutting.
"Taut, deft, and with a delicate sense of place, this is supremely accomplished storytelling." – The London Daily Mail on The Cutting.
"Chilling, pervasive, unrelenting fear…the suspense is pulse lifting…Hayman's portrayal of the dance between the hunter and his prey is masterful." – The Providence Journal on The Chill of Night.
"Hayman's story craft is taut, the pacing tight, the horror enacted in the dark vibrant with grisly tension. Hayman does not let up in his nearly faultless plotting or in his depiction of an incredible cast of characters." – The Portland Press Herald on Darkness First.
"Hayman's pacing is perfect. An unsettling thriller, not because Portland and the state have a history of madmen killing strangers on a rampage. What's frightening is that Hayman makes it seem possible, even probable." – The Bangor Daily News on The Cutting
"Readers of James Hayman's second mystery novel are in for a treat. "The Chill of Night" is an engrossing, character-driven novel… As the who-dun-it plot unfolds, one comes to admire Hayman as a genius of suspenseful writing." – Maine Sunday Telegram on The Chill of Night.
"A twisting, action-filled plot. This one puts Portland, Maine firmly on the crime fiction map." – Booklist on The Chill of Night