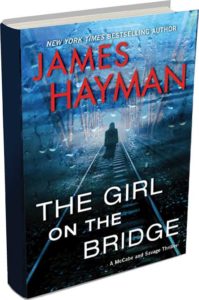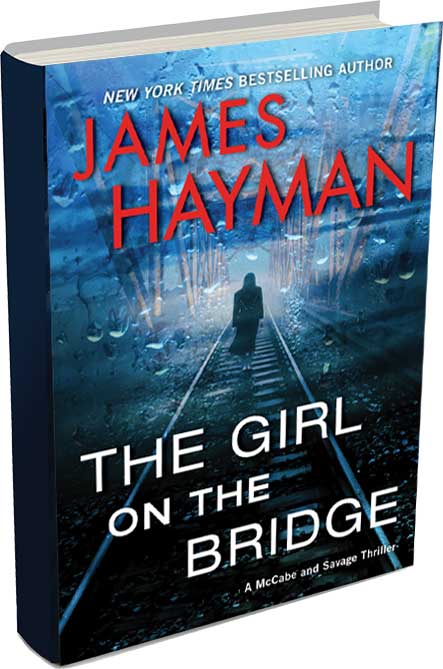 "The Girl on the Bridge combines the pleasures of a classic police procedural with the righteous satisfaction of a revenge thriller, and a great twist. Every crime fiction fan will find something to enjoy here." (Joseph Finder, New York Times bestselling author of Paranoia and The Switch)
"A riveting police procedural that gripped me on page one and never let go. Hayman paints a frighteningly real scenario of every parent's worst nightmare. The subsequent murders are either revenge or justice — maybe both. A first-rate story-teller at the top of his game." (Robert Dugoni, bestselling author of My Sister's Grave)
"Turning someone else's terror, pain and even death into diverting entertainment is at the core of the mystery writer's craft, and here Hayman offers a stunning lesson in how to do it.   His novel begins with a gang rape at a university frat house and goes on to a suicide. Then mutilation and murder, and before he's finished, there's at least one head blown apart. Things are kept afloat by Hayman's two series detectives, Michael McCabe and Maggie Savage of the Portland, Maine, police. They're smart, they're fiercely articulate, and their dogged investigation turns the novel into a procedural of the highest order…Everything goes right here: pacing, mood and lean, elegant writing, and by the time readers learn the killer's identity and motive, they'd be happy to kill the scumbag, too."-Booklist

Reviews Of Darkness First:
"In this beautifully written, skillfully planned book, the people are as well-drawn and
interesting as the plot. "Darkness First" is more than a crime novel; it's an
intelligent, descriptive narrative that, like all real literature, creates its own
engrossing world." -Reviewer Marsha Leigh
"Darkness First, Hayman's terrific third thriller, offers a deplorable villain, tantalizing characters, and a hint of romance mixed in with the twists.  What more could a reader ask?" -Library Journal
"As the whodunit plot of The Chill of Night unfolds, one comes to admire Hayman as a genius of suspenseful writing."  -Portland Press Herald
"The Cutting is an extraordinary debut and an exceptional thriller, THE CUTTING is razor-sharp, heartfelt and superbly written. James Hayman is a tremendous new voice in crime fiction."-Julia Spencer-Fleming, Edgar finalist and author of I SHALL NOT WANT
"Big-city wicked invades the Pine Tree State in James Hayman's THE CUTTING. This is a stunning debut that gripped me from first page to last. A thriller of a thriller!" -Tess Gerritsen, New York Times Best-Selling Author of THE KEEPSAKE
"In "The Cutting," (Hayman) gives readers a suspenseful police procedural whirling around a character who has the brains, courage and human concern to be the reader's hero from start to finish. All in all, if that sounds like a rave review, it's because I intend this to be one. Rarely does a new novelist make a debut, in Maine or anywhere else, as polished, well-paced and plotted as this one. Even less often does a writer create characters as well-drawn and centered as Hayman gives us with his Portland Police Detective Sgt. Mike McCabe, three years into life in his new city." –Nancy Grape, Portland Press-Herald
"Hayman's pacing is perfect. He sends the detective hurtling after the killer but also allows McCabe to stop just often enough for readers to learn how deeply damaged the man is. At his core, the policeman, like the victims for whom he seeks justice, is fragile. It is his stubborn tenacity, his young daughter and his artist girlfriend that keep him going….The Cutting is an unsettling thriller, not because Portland and the state have a history of madmen killing strangers on a rampage. What's frightening is that Hayman makes it seem possible, even probable." -Judy Harrison, Bangor Daily News
"Hayman ratchets up the tension in this engrossing account of a deviously motivated psychopathic  killer. "
-Michele Leber, Booklist.
"Bookstores have been looking for a writer of popular fiction who can reliably produce a bestseller. James Hayman…has invented a cop with sophisticated tastes. If your summer reading includes a psychological thriller, this one's for you." –Mandy Twaddell, Providence Journal