What is an Alaska Wilderness Mystery Author?
In my last blog post I wrote about the importance of setting to the success of any mystery series. And I discussed the many reason Portland, Maine was the perfect urban setting for my McCabe/Savage thrillers. After posting that blog I came across a novel by another thriller writer, Robin Barefield, who uses a very different kind of setting to tell a terrific tale of murder.  After reading Robin's "Murder Over Kodiak"  I asked her if she'd be willing to write a guest blog about how and why the wilderness of Kodiak Island, Alaska offers exactly the right setting for her novels.  Here's her response.
—— " ——
 
Can you smell the salty ocean, the fruity tundra, or the steamy bear droppings on the trail in front of you? I want you to see and smell all those things and more in my novels. I want to open your senses to Alaska because my mystery novels take place in wilderness Alaska; not in an urban setting.
As Mr. Hayman discussed in his last post, the setting of a mystery novel is as important as the characters or the plot of a story. A novel set in the boardrooms of New York has a different feel from one set in Savannah or Aspen. Mr. Hayman's novels take place in or near Portland Maine, his hometown, and an area he knows well. His familiarity with the setting brings authenticity to his books.
I reside in the wilderness on Kodiak Island, Alaska, so my characters live, play, and murder here. I have lived in the middle of the Kodiak National Wildlife Refuge for more than thirty years. My husband and I own a small lodge, and in the summer, we guide guests on wildlife viewing and fishing trips. We hike up small streams, sit on the bank and watch Kodiak bears chase and eat salmon. I know the wilderness well, and I respect it. Kodiak Island is beautiful and wild, but it can also be deadly.
As an author, I enjoy throwing my character into this dangerous, inhospitable environment. This wilderness setting often offers me ideas to move the plot forward or to provide background and depth for my characters.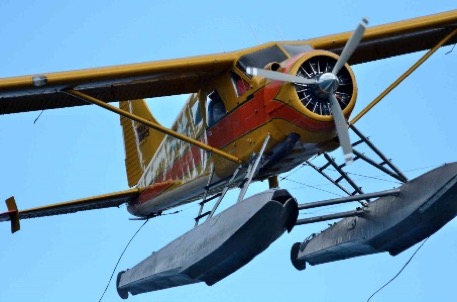 Floatplanes figure prominently in my novels because there are no roads on the Kodiak National Wildlife Refuge which covers two-thirds of the island. Travel over much of the island is either by plane or boat. I have had several frightening small plane trips in bad weather, so it is easy for me to write scenes of terror in the air.
In my first novel, Big Game, my protagonist, Jane, struggles with the pilot over a gun, and when she accidentally shoots and kills the pilot, she must figure out how to keep from crashing into the mountain in front of her.
In my second novel, Murder Over Kodiak, a floatplane explodes mid-air over Kodiak Island on a beautiful, calm day. The act is unthinkable to the residents of Kodiak. There are many reasons small planes crash in Alaska, but a bomb is not one of them.
I enjoy creating characters who are unusual and choose, for a variety of reasons, to live in wild, remote locations. These are people who understand the wilderness and use it to survive or to murder.
Over the past two years, I've written a monthly newsletter about true murder and mystery in Alaska, and many of these true tales have provided me ideas for my fiction. In Karluk Bones, the novel I am writing now, I weave together pieces of four true stories.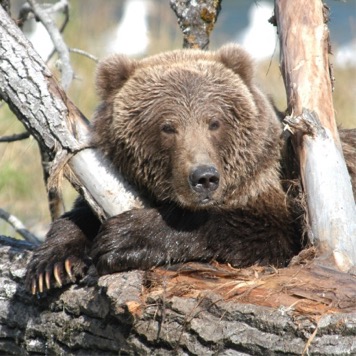 One of my characters in Karluk Bones is a trapper who believes he owns the area around Karluk Lake on Kodiak Island. He considers anyone who camps or hikes near the lake a trespasser and threatens these imagined interlopers. This trapper is known to be violent. He once killed a man in a bar fight and has returned twice from trapping trips, claiming his trapping partner for the winter deserted him halfway through the season. No trace of either partner was ever found. This character is based on an actual person who lived on the Alaska Peninsula. Law-enforcement officers found evidence suggesting he'd killed and eaten his trapping partners, but the trapper disappeared before he could be brought in for questioning. My character based on this real-life trapper is not someone you will find in a novel set in a city.
In my recently-released novel, The Fisherman's Daughter, authorities fear a serial killer is stalking women on Kodiak Island. Most of the action in this novel takes place near and in the close-knit community of the town of Kodiak, where readers can enjoy meeting some of the unique residents of this quaint fishing village.
Kodiak Island is famous for its huge brown bears. Thirty-five-hundred bears live on the Kodiak Archipelago, so no fictional hike through the woods would be complete without at least seeing a bear. I've spent a great deal of time watching bears, and while I'm not terrified of them, I respect their strength, power, and intelligence. I strive in my novels to portray bears and other wildlife as accurately as possible.
I invite you to read one of my novels, take a trip to Kodiak, and get a feel for this wild, mysterious island.
---


Robin Barefield is the author of three Alaska wilderness mystery novels, Big Game, Murder Over Kodiak, and The Fisherman's Daughter. To download a free copy of one of her novels, watch her webinar about how she became an author and why she writes Alaska wilderness mysteries. Sign up on her website to subscribe to her free, monthly newsletter on true murder and mystery in Alaska.